Tre Pol Pen: Have you ever wondered why so many Cornish places have similarities in their names? Maybe this page will help.
Tre Pol Pen are examples of Cornwall's own language and the fact that place names and people's names are not just accidental things but ones that have actual meaning and probably the most famous and revered name in Cornwall is that of Trelawney:
Song of the Western Men - Cornwall's National Anthem:
A good sword and a trusty hand! A merry heart and true! King James's men shall understand What Cornish lads can do!
And have they fixed the where and when? And shall Trelawny die? Here's twenty thousand Cornish men Will know the reason why!
Out spake their Captain brave and bold: A merry wight was he: 'If London Tower were Michael's hold, We'd set Trelawny free!
'We'll cross the Tamar, land to land: The Severn is no stay: With "one and all," and hand in hand; And who shall bid us nay?
'And when we come to London Wall, A pleasant sight to view, Come forth! come forth! ye cowards all: Here's men as good as you.
'Trelawny he's in keep and hold; Trelawny he may die: But here's twenty thousand Cornish bold Will know the reason why!'
The Trelawny referred to in this song was Jonathan Trelawny (1650 - 1721), who was one of the seven bishops imprisoned in the Tower of London by James II in 1688. Born at Pelynt into an old Cornish family, his father, the 2nd Baronet of Trelawne, was a supporter of the Royalist cause during the English Civil War.
We were taught this song in junior school and used to sing it regularly for it tells of the plight ofJonathan Trelawney.
I used this song to start this page, tre pol pen, because I can think of nothing that paints a picture of the historical pride of Cornwall and its people than this.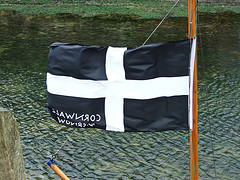 Cornwall has its own anthem, its own flag and its own language, although the language is nowhere near as widely or commonly used as the Welsh use their language.
You will notice, as you enter Cornwall and head off for your destination, that there are many similarities between the names of the villages that you pass and that many of them have one of three prefixes; tre pol pen.
Well, there is a reason for that and further down this page you will see a link to a reference page that will give you a much broader description of special prefixes and words in the Cornish language.
YOu may pass by Trenance, or Tregorrick or Trethowel, plus many other similar sounding places and wonder what the prefix means. Well, in Cornish:
tre means a farmstead which we would call a town, or a settlement.
pol is a very variable prefix used for a cove, creek or pit.
pen is used to denote a head or top or end so, for instance, Pentewan is a bach that I refer to in this site and it is situated at a headland, penzance is another very obvious place name with the pen prefix.
You will find below two links. One takes you to a website which will give you the historical background to Trelawney and the other is a link to a web page that has a very detailed glossary covering the placenames in the Cornish language.
---
Click this link to discover Trelawney and tre pol pen
---
Choose From A Great Selection Of North Cornwall Holiday Cottages
Click Here To Choose From A Great Range Of Cornwall Holiday Cottages.
---