Boscastle. One of the loveliest places in Cornwall and one of the most dramatic
Ready to take a look? Good . . . let's go!
Boscastle could well be the place that you would like to go first before you work your way down the coast . It is a picturesque fishing village nestling between Padstow and Port Isaac, with magnificent views and beautiful coastal walks.
With a strong Medieval history and distinctive harbour, this wonderful fishing village is one of the most well known, loved and romantic places on the north coast.
It's an enigmatic place steeped in history, not to mention tragedy. After the dreadful flood Boscastle,in 2004, was a devastated community.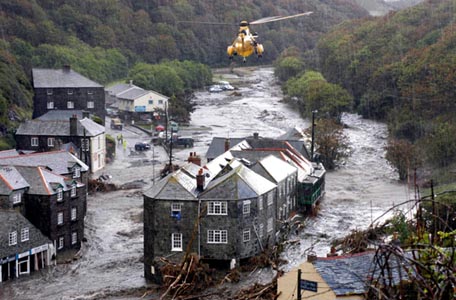 I always hope that people will visit this special place and do all that they can, to help rebuild and revive the tourist income that is so vital to the people who live and work here.
Abundant in wildlife, dramatic walks and historic features, and with its many natural attractions, this historic fishing village is an ideal place to make your holiday base at any time of the year and locally, you can find some of the best camping holidays in Cornwall with a great range of camping and caravanning sites all around.
Just take a look at the map of Cornwall in this website to get an idea of the variety of places, from Bude to Newquay, where you can stay. Since the flood Boscastle has started to thrive again.
My last visit was just 3 months ago and I am popping back down again later this month when I shall, once again, discover the delights of Heslett Farm Ice Cream which I shall buy from the lovely lady, Trixie, who owns The Harbour Light (Clothing) shop on The Harbour. Yes, amongst the wonderful range of things that she sells, Trixie also sells the delicious Heslett Farm Ice Cream in a wonderful range of flavours!
It really is amazing how this delightful harbour village has been transformed since that awful day. The way that it has been rebuilt is quite incredible and yet, the character of the place has remained intact.
On another page in this site there is a blog section as well as a contact section and I would be delighted and honoured if you have a first-hand account of that terrible day when the flood happened. I would love to be able to include a testimonial page in this website, where people could share their memories and where I could establish a charity donation link.
Hopefully, in time, that will happen because I would love to be able to do something constructive that will help the rebuilding process that goes on still at Boscastle.
Among the links that you will find on this site is a link at the bottom of this page which takes you to the website of a truly magical place - The Museum Of Witchacraft. It really is a wonderful place to visit . . . . especially if you have children!



Discover the magic of the legend of Cornwall
This link takes you to the Museum of Witchcraft, at Boscastle