So, what type of holiday places are you looking for?
So many places in the lovely Cornwall South West have it all. No matter what your tastes are and regardless of the type of experience you seek, you can find it in Cornwall. In the pages on this site you will find everything that you need for a wonderful journey of discovery. You may want to experience the thrill of the surf which means your journey will take you to the many beaches of the north coast and where better to start than Newquay.
A Cornwall Holiday has so much to offer and Cornwall is just packed full of fabulous places to see and things to do. One of the most beautiful places in Cornwall Roseland is an attraction not to be missed. From my boyhood I remember fondly visiting St Just in Roseland and I can still recall to this day how picturesque it is.

If your passion is for food then you will be in the right county, for a Cornwall holiday will provide with you with a wide range of delicious foods from seafood to the traditional Cornish Pasty.
Take a look at the food section of this website and there you will find out about the great Cornish Pasty, its history and most importantly, how to make one!

For anyone who wants to experience a great shopping experience with the slow, easy pace of rural England then Truro, the Cornish capital, could well be perfect for you with its cosmopolitan blend of the modern and the historic.
Maybe you just want to have a holiday that allows you to relax, enjoy the beach and see some of England's most beautiful sights. In which case, when you visit Cornwall St Ives, Padstow, Boscastle, Tintagel, or Fowey (some of you spell it foy, or foye) are among the loveliest towns to be found anywhere
The map of Cornwall, located at the bottom of this page, is absolutely packed full of wonders to visit, where history, natural beauty, legend, myth and charm all combine together to deliver the ultimate holiday experience of a lifetime.
The point is that when you visit Cornwall there is a whole world of adventure, entertainment, culture, history and activity just waiting to be discovered.
Whether you are visiting to enjoy a wonderful Cornwall Holiday or simply to experience the culture and history of this great county, one thing is for sure.
You are in for a memorable experience.
---
North Carolina Travel Guide
If you fancy something a little different away from the UK, North Carolina is a wonderful location to visit whether you enjoy the mountains or the coast at any time of the year.
---
Click on the map below to discover Cornwall's beautiful beaches
---
---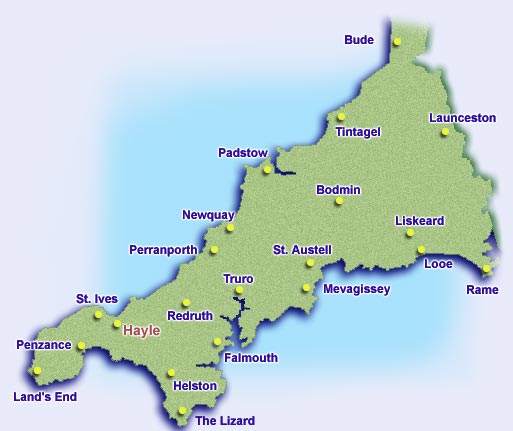 Go from Cornwall's places to find out about place names