Tintagel . . . . . It's time to go in search of a legend!
Tintagel, home to several hotels and restaurants plus a variety of shops selling traditional and novelty items. You will find it just a few miles from Padstow, along the north coast and next door to Boscastle.
At first you would think this was just another typical seaside town filled with shops and restaurants and bustling with people. But then, as you walk along the high street you will notice, halfway along, the old Post Office.
The Old Post Office is a strong reminder that, behind the tourist facade, there is real and meaningful history here. This is an example of one of several such historic buildings that can be seen in this well known coastal holiday spot.
If you walk a little way further, down the high street you come to the pathway, on your left, which leads down to the beach and most significantly, to the old ruins of the fabled home of King Arthur.
The famous castle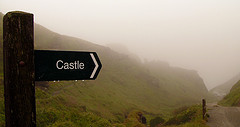 The most ancient legends that recount the story of Arthur and Merlin tell us that it was on a cold, stormy night that Arthur, Son of Uther Pendragon, was born in this castle, to be whisked away and raised by the great magician . . . . Merlin!
Later, in the years after Arthur's great deeds, it is believed that after his final battle, Arthur cast his great sword,Exaclibur, into Dozmary pool which lies not far from Tintagel, on Bodmin Moor.
So, don't just sit there admiring the view (and what a view it is, of dramatic cliffs and a rugged coastline where the rolling waves of the Atlantic ocean continually roll against it), no don't just sit there.
Go and explore. Enjoy. Investigate. . . . Have yourself an adventure!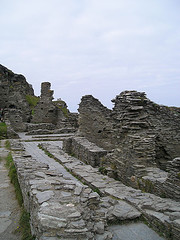 And just in cae you find that the prospect of the long, uphill walk back is just too much, especially after a large, tasty, Cornish seafood meal, followed by a delicious cream tea, you need not worry. Go ahead and enjoy the walk down. There is a Land Rover service to bring you back up, all the way to the top!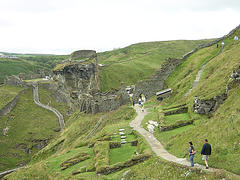 Tintagel will now return you to the home page