Mevagissey is just one of those places. Unforgetable. A real holiday treat
I first started visiting Mevagissey when I was a teenager. As a child, we used to visit Pentewan a lot. In those days it was just an open, public beach. And then, when I left school I got a summer job working the ice cream vans and my pitch was in a static van (a stand van) on Pentewan beach.
I suppose around the time I was about 14 or 15, I developed my first real friendships and as it happens, my 'mates' were all from Mevagissey or its surrounding areas so I used to visit there quite a bit.
Once I left school and got a job, I got a motorbike and then I used to ride down there all the time.
I used to frequent the Harbour Lights and the Ship Inn, probably more often than I should!
Meva has a great fishing tradition in Cornwall and is very much a working harbour. Back then we would watch the boats come in and unload and we would be fascinated. I have such a vivid memory of the day a very large eel was offloaded. Someone from the fishing boat held it up at arms length and it stretched from above his head all the way to the ground. At a rough guess I would say it was about 7-8 feet in length.
We would go out in a small rowing boat and take a couple of spinners, no bait, and just drift around in a big circle until the three of us had made a couple of catches each, usually mackerel, and then we would go back to the harbour and sell them to passing tourists! So beware!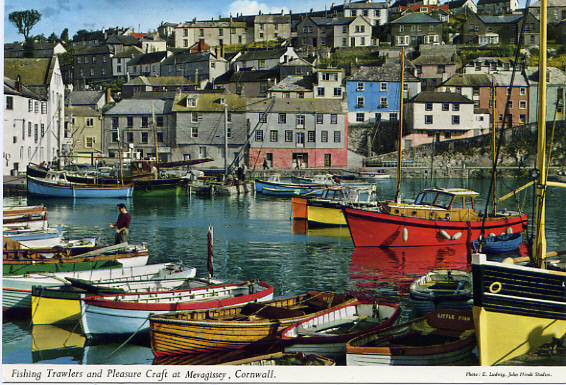 On a warm, sunny day, you can just walk around, visit the many small shops, buy a souvenier or three and enjoy the delights of one of the many cafes, pubs and restaurants. It is always worth a walk along to the end of the harbour wall to just sit and enjoy the spectacular sea view. All the ingredients for a perfect Cornwall holiday attraction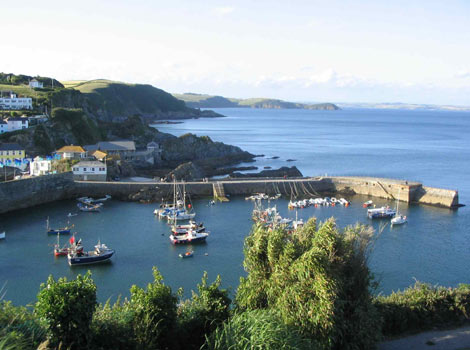 And then, once you are here, you are just a stone's throw away from a whole range of Cornwall's delightful attractions. There is Gorran Haven, Pentewan, St Austell with its shops and the Eden Project and then you have Fowey (pronounced as Foy), Polruan and even St Just not very far away.
Choose From A Great Selection Of Cornwall Holiday Cottages
Click here to visit the North Cornwall Directory web site to advertise your accommodation or purchase Cornwall Coastal Path DVD's.
This link will take you from Mevagissey back to St Austell